Click on the yellow box above to access online banking.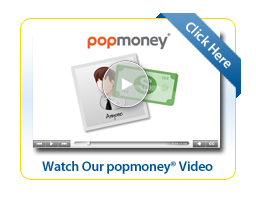 Introducing Popmoney®!
Popmoney® makes sending money just as easy as sending an email. Quickly and securely send money to individuals and request money from others, using an email address, mobile phone number, or bank account information.
Make it Easier to:
Pay your rent or your roommate
Pay your friend back for lunch or the movies
Send money to a child in college
Cover shared expenses
Pay your child their allowance
Pay the babysitter
Pay your neighbor for mowing your lawn
Send the gift that always fits! Money.
The possibilities are endless!
FAQs
1. What is Popmoney®?
You can use Popmoney to pay anyone you know, or owe – it's the easy way to send and receive money directly from your Biddeford Savings account. Pay your rent or send money to your kids away at college – it's safe and secure and all you need is an email address or mobile phone number. It's a great way to pay individuals without having to write a check!
2. How do I access Popmoney®?
You can access Popmoney® within your online bill payment center.  Simply click on the tab name Popmoney.
3. What are the features?
Popmoney® offers several features. You can:
Personalize your gift payments with an e-greeting template
Set up future-dated payments and recurring payments
Import contacts from popular email services (such as Hotmail®, Yahoo!® ,Gmail®)
Send money using an account number, in addition to using an email address or mobile number
Add multiple email addresses and mobile numbers for any contact
Respond to all Popmoney® activity, including depositing payments and paying requests, from a central dashboard, or "To Do List"
Receive money by simply verifying an email address or mobile phone number (without formally enrolling)
Access the largest person-to-person payment network for financial institutions, with 1,400 participating banks and credit unions.
4. How secure is Popmoney®?
From the moment information is sent to Popmoney® to the time it is stored and accessed again, it is encrypted using industry leading software, hardware and algorithms. Security is also utilized at specific points and actions in the product. For example, to help prevent an unauthorized person from fraudulently depositing someone else's payment, one-time passcodes are used. For every initial payment to a new email address or mobile phone number, a one-time passcode is sent to the user. The user must provide that passcode back to Popmoney to verify his "ownership" of that mobile number or email address before he can deposit the payment.
5. Will I be paying any fees?
The fee for Popmoney® will remain at 50 cents per transaction.